A social experiment sparks advocacy for equal pay  
Group 3B recently took part in a social experiment that linked Language, Health and Wellbeing and IPC learning goals. The class embarked on an eye opening journey that not only broadened their understanding of historical events, but also started discussions on social issues relevant to our present time.
By Colleen Cropp, Learning Leader
It all started with the class receiving a letter from the school cleaning team, who kindly requested for the children to help with some of the tasks they usually undertake after schoolhours.  As you can see from the pictures the children eagerly embraced the opportunity and all worked extremely hard cleaning tables, vacuuming and recycling. To acknowledge their hard work, the children were all rewarded  with chocolate eggs, acting as a symbolic form of payment.
However the boys received higher pay for their efforts, which caused much discussion. We linked this to the IPC unit Time Travellers where the children explored historical events of global significance. During their exploration of the 1970's, men were paid more than women. This was especially relevant as the class also learnt that in many cases there is still a gender pay gap in jobs today!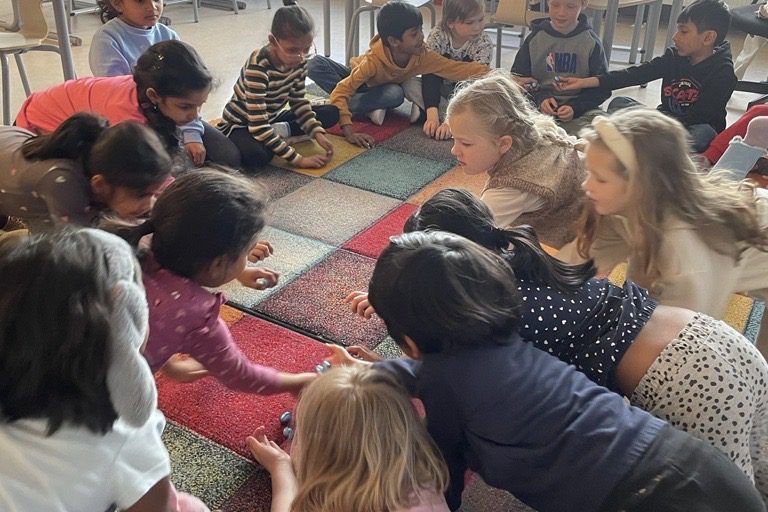 To further link these newfound insights with language development, the children wrote letters to the relevant government ministers to demand equal pay for equal work. Kenza, one of our students,  brought her letter to me for review and I was impressed by how articulate she was in explaining what she had found out and what she felt needed to happen to make society fairer.
I love it when learning in our school brings awareness of social issues and when children are challenged to think about how things are and discuss why changes may be necessary. In this way learning becomes real and relevant and by raising awareness of social issues, we empower children to recognize that they do have a voice and that their opinions are important.